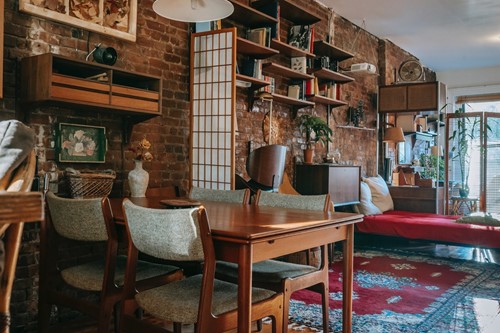 Everyone will have a different perception of what eclectic style means. For such a carefree and "anything goes" type of design style it's only natural for it to be very subjective. However, there are some specific guidelines that every eclectic design follows. By using these key elements you can create an aesthetic that's fun and interesting without simply creating a chaotic mess. Here we will go over some ideas for achieving an eclectic design style in your home.
Mix Patterns & Furniture Styles
An important characteristic of eclectic style is mixing and combining elements of other styles. This also goes for pattern and prints. Use geometric shapes, organic motif, stripes, dots, animal prints or other animal designs in any combination that you prefer. You can also mix up your furniture styles. Eclectic design celebrates using old pieces and new pieces, so pair a mid-century modern coffee table with vintage seating.
While mixture is key, so are the ways to avoid clashing. One is to make sure your patterns share a common color. This will keep the mixture from feeling messy. Also consider mixing up the scale of the patterns you choose. For example, if you have a tight pinstripe pattern on one piece, combine it with a larger, bolder print. This will help you achieve depth and visual interest without the patterns blending together. This also applies to furniture, so make sure you combine pieces that are similar in scale.
Expect the Unexpected
Creativity is the heart of eclectic style. One way you can flex that creativity is by choosing unexpected furnishings or decor. Examples of this might include non-furniture objects used as furniture, like a vintage hard shell suitcase as a low coffee table. You can also switch up a piece's intended usage, like using chairs and stools as end tables. You can also apply this idea to purely decorative pieces, as well. Think using found signage used as wall art or using repurposed antiques like an old sewing machine or bicycle purely as accessories in a space.
Another excellent way to celebrate the unexpected is with wall coverings. You can add to the eclectic feel of the room by putting up wallpaper panels as accents or using chalkboard paint to create a giant doodling and writing surface. Hang curtains or drapes against the wall as you would a tapestry and layer them for depth and more opportunity to mix prints and patterns. Bold visuals that might feel like too much for an entire room make great accents and can also help define boundaries of a space.
While eclectic style is a celebration of creativity and mixture of design elements, it has some basic guidelines. Keeping your color choices in harmony will help you keep your patterns and prints fun instead of messy. Being aware of scale will help the furniture belong together even if each piece is from a different century. Using these guidelines while adding in one or two unexpected items of decor is always a great way to enhance the eclectic aesthetic and showcase your personal style.